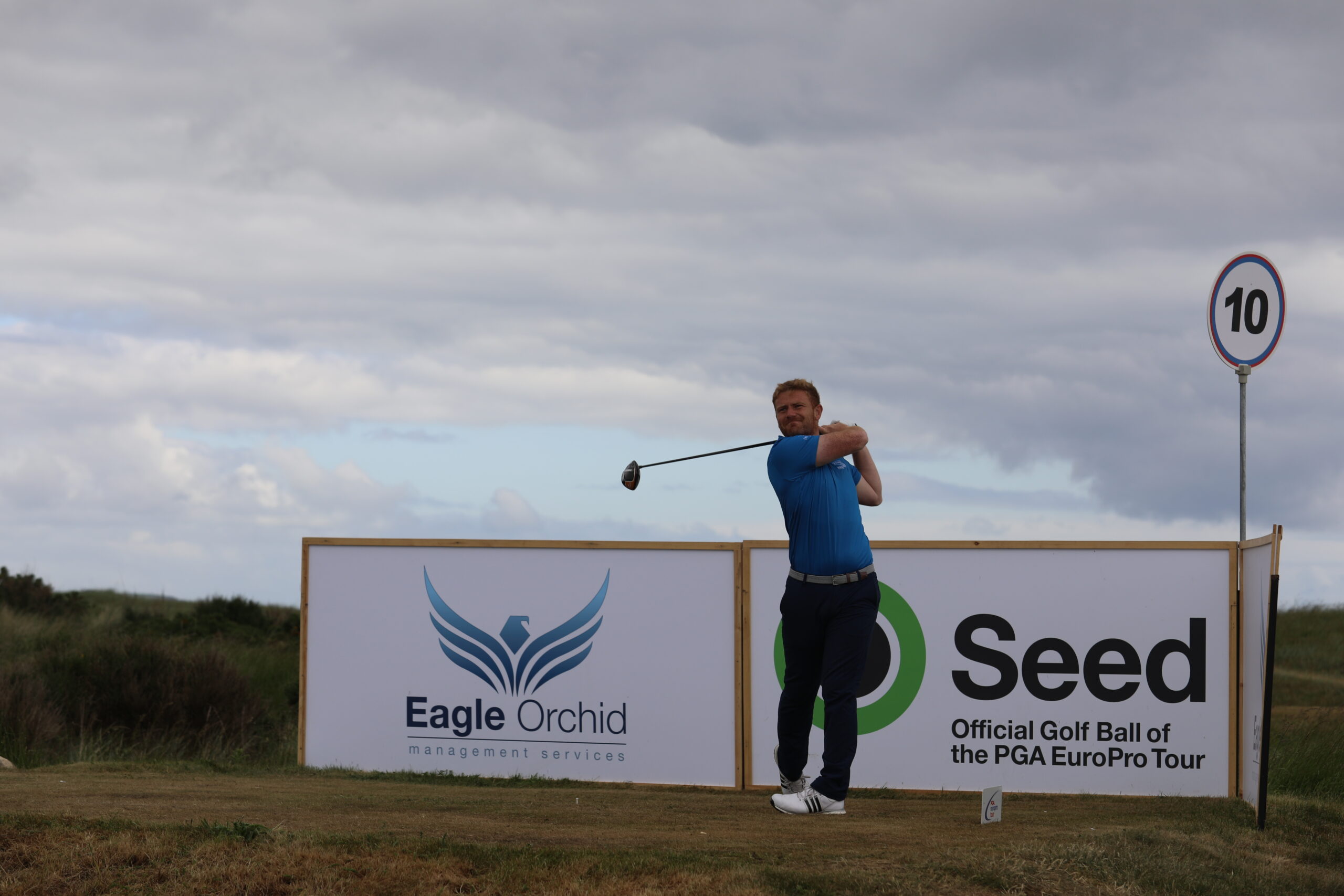 Sean Lawrie holds a one-shot lead after the opening day of The PDC Championship at East Sussex National after shooting an opening-round five under 67 in brutal conditions.
On a day where the wind progressively got worse throughout the day, Lawrie (Paul Lawrie Golf Centre) battled throughout his round going three under thru 9 before coming in for 34 to hold the advantage over Stuart Mclaren, Harry Goddard, and Tom Sloman. The Scotsman wasn't fazed by the conditions picking up seven birdies along the way and setting the benchmark in emphatic fashion.
Mclaren penned a 68 (-4) going out in 32 before holding out for level on the back nine despite three bogies coming into the clubhouse. The Renaissance Club golfer has been forever getting better since turning professional earlier in the season and the conditions seemed to favour his game as he headed out early around the East Course. Goddard (Trinifold Sports) was bogey-free with birdies on 2 and 6 on the front nine following it up with a further brace on the back nine at 15 and 17.
Meanwhile, Sloman (Trinifold Sports) was in a similar boat to Lawrie in heading out in some of the worst conditions of the day but he proved his mettle holding out for his 68 that included six birdies on the card.
Jack Davidson comes into the week fresh off a start on the European Tour at Celtic Manor and it seemed that experience benefitted him today. The Caversham golfer sitting at tied fifth on the back of a three under round that included six birdies and an eagle. 69 seemed to be a popular score with it also being how Jack Hawksby (Millbrook Golf Club), John Parry (Harrogate Golf Club), Nick Cunningham (Woburn Golf Club), Jack South (Tippity Green GC /Taymar Homes), and Jack Clarkson (Lancaster Golf Club) fared.
Tomorrow
The second round will get underway with markedly improved conditions on today so all eyes will be on those currently sat below the cut line with it looming after 18 more holes. Make sure you are following the PGA EuroPro Tour across social media for updates from the second day of The PDC Championship. Facebook, Instagram, Twitter.
Highlights from The PDC Championship will air on Sky Sports Golf on Tuesday, 10 August at 6pm with further repeats to follow. Alternatively, you can see the action wherever you are in the world on Matchroom.Live for free.